Coin Cabinets Price Guide 2020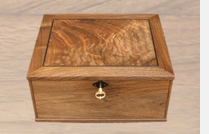 Drop Door
4 Small Trays - Mahogany - £165
4 Small Trays - English Walnut - £195
6 Large Trays - Mahogany - £265
6 Large Trays - English Walnut - £295
Fitted as standard with a sprung catch and pull. For a morticed lock please add £45.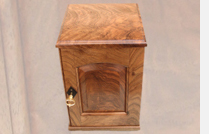 Single Door
18 Small Trays - Mahogany/Oak £395 - Walnut/Cherry £445
21 Medium Trays - Mahogany £545 - English Walnut £620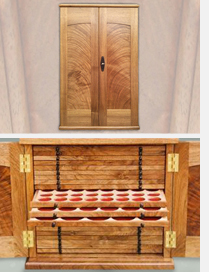 Double Door
24 Large Trays - Mahogany £760
24 Large Trays - English Walnut £845
27 Extra Large Trays - Mahogany £965 - English Walnut £1045
Please add next day delivery carriage charge £30. All single and double door cabinets feature an additional "oddment drawer". Please refer to the website for more information and cabinet dimensions/recess sizes etc. Bespoke items can be made to any size or style.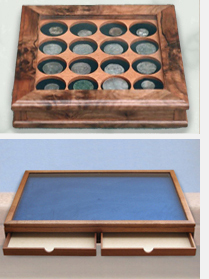 Coin/Artifact Display Cabinets
Glass topped 'table top' display cabinet containing a 'secret' drawer(s) can be made to order in a variety of sizes and quality wood finishes. Starting from £75. Please contact me with your requirements.
Coin Fair exhibitors display cabinets
Compact and lightweight. Craft made from a choice of quality hard wood finishes with either a toughened glass or Perspex lid. Contains a locking device. Built in lid rests. Can be angled towards the viewer.
Example price: Standard size - 1 1/2 inch (38mm) depth, suitable for coins/medals to fit inside a 2' by 18" (600mm x 450mm) space - £120 or; A set of three, to fit across a 6' (1800mm) table - £325.
I can also produce the above display cabinet containing two shallow drawers situated below the display area as illustrated.
To Order
Please send a deposit of one third of the quoted price with your order. The remainder will then become due upon receipt of the finished item, which will usually be within 6 weeks. I will always try to deliver larger items personally to within a reasonable distance.
Please do not hesitate to contact me if you require any more information. Other cabinets are always available.